ZeroSnap SmartCheck IN solution – Prologic First official partners.
We have successfully integrated our ZeroSnap SmartCheck IN solution with the leading PMS provider for hotels & resorts, Prologic First and are now official partners.
Nirmal EK

CEO at IntelliLABS Techno Solutions Pvt.Ltd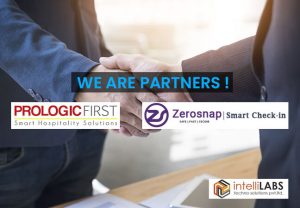 Deeply rooted in innovation, Prologic First aims to design smart solutions for the hospitality industry that are a cut above the rest. From designing one of the first ever integrated software solutions for hotels and restaurants to introducing cloud-based solutions, Prologic First has always pushed the envelope and kept its customers ahead in the game.
The hospitality industry is very dynamic. Rapid technological advancements demand new-age solutions. The preferences and tastes of guests change constantly. Amidst all this, what helps a business swim smooth, even in rough waters, is relentless innovation.
At Prologic First, we strive hard to predict the future trends and come up with the best possible solutions for our customers.
About Zerosnap
The one stop solution for all your needs for small tourist homes, hotels & resorts where bigger software costs are not affordable.
Through ZeroSnap, one can capture any ID cards within seconds using a scanner device as well as by uploading the soft copy of the document, send the details to the registration form, complete the check IN easily and efficiently. Also has the feature of pushing the guest details to any government related websites or forms with a button click, only thing is that this application needs to be interfaced with the third party website/application!!!! Get best features like custom reports, number of guests statyed at each room, what all ID details he/she had provided the last time, total revenue generated and more….
Know More : https://zerosnap.in/